SEO For Small Businesses: It's Important!
Search engine optimization is one of the best marketing strategies in 2022! If you're not sure what SEO is all about, here is the perfect starting point.
SEO is one of the most useful tools available for small businesses, but it's also an expansive and confusing field. That leaves many business owners struggling to start the process, never really generating traffic or gaining the confidence to start a campaign. With shopping trends headed more and more into the online marketplace, now is the time to excel. If you can earn a spot on page-1 for your service, it can compound your sales!
While there have been highs and lows to virtually every kind of small business marketing over recent years, your potential customers have kept searching for the services/products they need. New customers have been far less likely to find you in person, but that has only driven the importance of SEO for small businesses and big brands alike.
The problem most small business owners have with starting a digital marketing campaign is the cost, but one of the essential benefits of SEO is that it's cost-effective, and SEO for small businesses lasts for years after your campaign ends. Whether you choose to complete a six-month campaign or stay forever, you will continue to yield new customers long after the SEO effort stops.
Alternative strategies like paid ads may pay off for a short time, but organic search will always be the best way to gain compounded growth. The best part is, calls don't stop when you cease paying for the campaign.
So, Why Is SEO Important For Local Businesses?
Being number one in the search engine result pages is everyone's dream, or it should be. What would the number one position cost you if you were competing for the paid advertisement space?
Digging into the psychological benefits of SEO, more customers trust organic results than ads. Do you want to work with the ones who paid for their spot, or the business that is naturally the most relevant to Google?
Search Engines Power Over Your Small Business
Like it or not, your position in search engine result pages has a direct impact on whether or not you are seen by potential customers. Local SEO gives your small business website the ability to rank for relevant keywords, but it does much more than that. Let's break down what SEO for small businesses can do:
Help your business build trust with Google & other search engines
Enhance your appearance in search engine results
Increase organic traffic from potential customers
Build a positive user experience
Improve conversion rates
Helps build brand awareness in your community
Provides high-quality content
On-Site SEO Components
Whether you are doing your own SEO or choose to hire a professional, website optimizations are the most important factor in your rankings. Good SEO will include an initial site audit, an analysis of your current website traffic, keyword research, on-page optimizations, and backlink building to start. These components each have their own process and play a valuable role in your SEO efforts.
While the overall goal is to boost your search engine rankings and increase your online presence, search engine optimization has far more to it than that. To understand local SEO and digital marketing, it's helpful to break down the individual pieces of an SEO strategy. Here are the building blocks that will help you accumulate relevant traffic and build your brand:
Website Audits
Technical website audits give you an overview of all site errors that need to be fixed before your site can perform, convert, and rank at an optimized level. After the site audit is run, changes will be implemented to various elements accordingly to enhance your website speed and searchability. This process points out a multitude of factors that affect your site, including:
Meta Title & Description
Your meta title and description are what represent your web pages in the search results. Each title and description should contain keyword-relevant information, the ideal amount of characters (determined by pixel length), and an enticing message to draw in customers. The audit will tell you which meta titles and descriptions are too long, too short, or have been duplicated between pages.
Image Size
The size of images on your website can affect your site speed if they are outside of the ideal parameters.  Use your website audit to point out any images that are too large or maybe slowing down your site performance.
Page Content
The content on each page of your website matters, and short (thin) content or duplicated content may lower your overall searchability. There are other aspects of your webpage content to examine in an audit, but the most important attributes in regards to your audit are the length, uniqueness, and structure.
Headings
Heading tags give your website structure, letting search engines identify which content is the most relevant and which sections contain supporting content. A proper page structure with correct heading usage is a fundamental part of ranking your website.
Web Traffic Analysis
Your organic traffic won't mean anything if potential customers aren't finding you under the right search intent. Quality SEO strategies will analyze your current website traffic, along with what people are searching to get to you for a better overall picture of where your website is at. While any traffic may take your brand awareness somewhere, you need to be topping the search engine results pages for inquiries that will generate real value. After you have accomplished that, you will need to ensure that you have a user-friendly website that gives local customers exactly what they need to trust your business.
Keyword Research
To find more relevant traffic, you need to find where the search traffic is at. Accurate research of relevant keywords lets your small business appeal to search engines and appear for the most popular searches in your area. Targeting your content with the right keywords lets you aim your efforts at a specific organic search.
On-Page Optimizations
It doesn't matter if you own a multi-billion dollar company or a small business in a local community, high-quality content is imperative to your success. It's been that way for centuries, the most attractive content gets the business, but on-page SEO efforts have to go well beyond that to stay relevant in search engines. To stay relevant in an online business world, your pages should have:
High-Value Content
New customers who are actively searching for your small business services want relevant content that supports your site and shows why you are the best at what you do. Your content should contain impeccable grammar and fluid keyword use to appeal to search engines and potential customers alike. small businesses have achieved high levels of brand awareness improvements with simple content enhancements.
Trust factors
Google searches love to see trust factors and so do search engine users. By adding elements like Google reviews, testimonials, linked websites that you work with, certificates, and badges that distinguish your small business, small businesses can earn some extra trust from local clients and Google at the same time.
Visually Appealing Elements
The elements of your site can dramatically affect the rest of your SEO work. For effective SEO, small businesses need user-friendly websites that are visually appealing to potential clients. You don't need to spend tens of thousands to build a site that is pleasing to visit. More traffic will not come to an amateurish site, so ensure that your business website is clean, easy to understand, and has a bit of flair to attract new customers.
Proper Structure
As we previously discussed, one of the primary benefits of SEO is that your pages will be structured with the proper title tags and relevant information, but SEO brings more than that to your page structure. Website page elements that Google loves to see are:
Google Reviews
Linked Guest Blogging
Call To Actions
Proper Heading Structure
Interlinking Between Pages
Outlinking To Informational Pages
Linking To Map Locations
"A good SEO company will know how to properly implement these elements to help small businesses earn preference from Google and other search engines to earn first-page status"
 Local Listings & Off-Site SEO
One of the first things small businesses should do is sign up for local listings and get their off-site SEO started. While many off-site SEO efforts are more complicated, a Google my Business listing is the ideal place to start your digital marketing, whether you are an SEO company or a business owner.
With proper optimizations, your off-site listings can take off: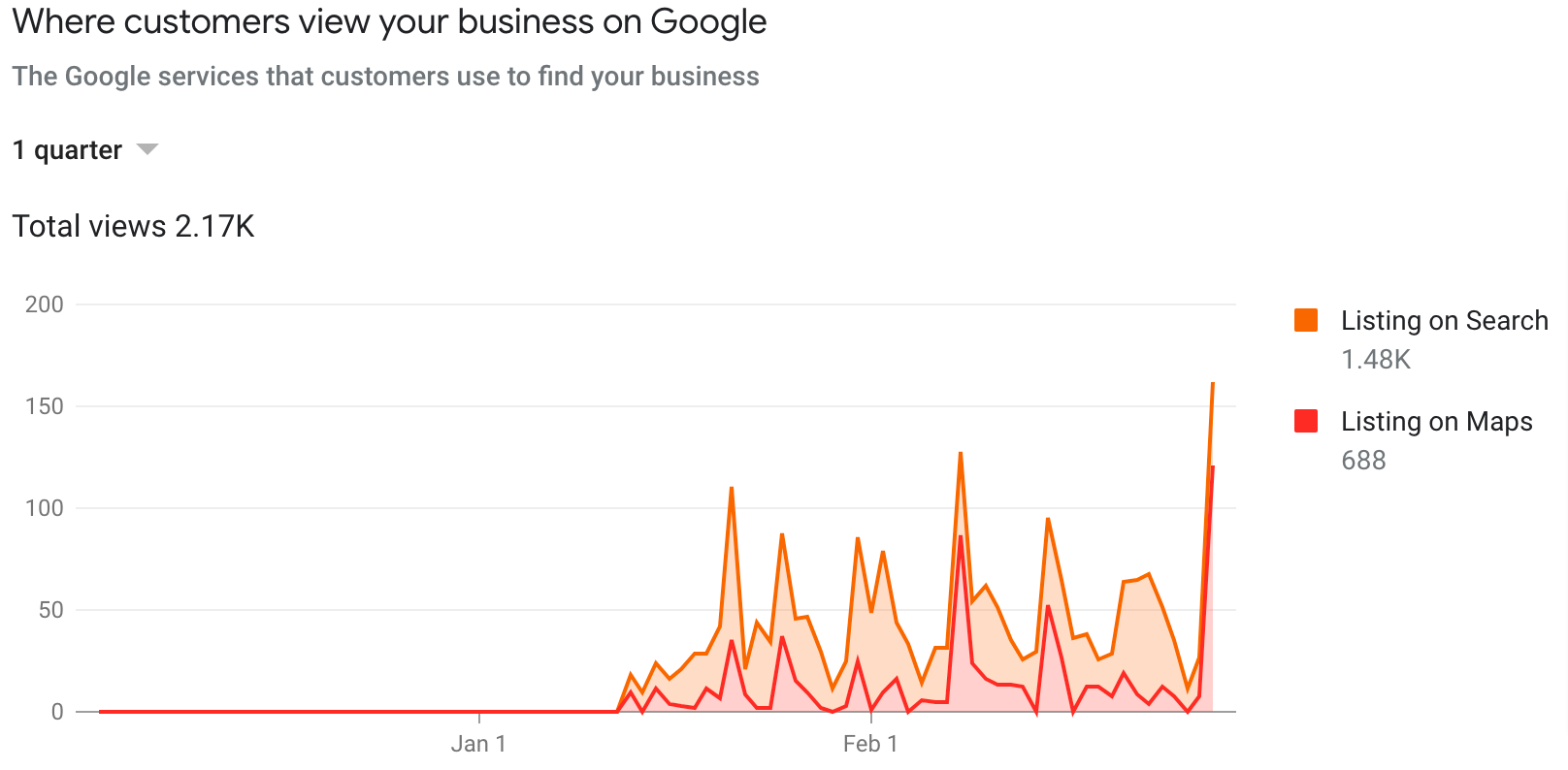 Google My Business Listings
Small businesses that do not have a Google my Business listing set up are wrong, end of the story. If you want more targeted visits, increased call rates, and a much easier time trying to build brand awareness,  set up your business listing. Not only will this support your website and add validity to your business, but it also helps more customers see your business in a setting that's not your site.
Of course, nothing is more cost-effective than free, so there is no reason why small businesses should leave such a valuable resource on the table. Google my Business listings can:
Give Customers A Quick Profile
Accessibility is crucial, especially when your customers are using mobile and tablet devices, where they are typically trying to do a quick search and find the ideal business without entering a website. Your GMB gives your business a quick first impression, with the ability to add images, products, services, a business description, unique attributes, and more.
Let You Appear In Map Searches
Google Maps is full of customers who are waiting to discover your business, but they can't do that if you haven't added it. Maps help you find the right traffic from local searches from customers who are looking for a product or service, you just have to make your business relevant and rank.
Consolidate Your Contact Information
Listings give small business owners the perfect spot to condense their contact information for easy viewing and even lets potential customers save your business for later.
Spread Awareness Of What You Offer
Because GMBs let you easily display products and services, search engines can relate the information to your business,  making your site and listing more relevant for search terms. Customers see the same information and are more likely to click on informational profiles.
Top 3 Reasons Businesses Start SEO Campaigns
There are numerous situations that would encourage business owners to hire an SEO agency, due to the versatility and longevity of results. The three most common reasons to work with an SEO specialist are:
Taking Your Sales Online
In 2021, shops, retailers, and businesses that offer a product should sell it online. It may be an extra hassle, but with so many people shifting exclusively to online shopping, many stores have chosen to bring their products to the web. Setting up your business online is not an easy process, and the best way to get started is by working with an SEO agency. Of course, you will need some website adjustments, if you have one, and your search engine optimization expert can help you set the site up to be user-friendly, fast, and converting. After you have successfully shifted your sales strategy, SEO can help drive sales by increasing your Google search position for keywords that trigger action.
Solidifying Your Branding
Every mention of your business across the web should contain consistent information. Moving physical locations, changing your number, altering the name of the business, or a number of other things can cause inconsistencies that should be addressed. Off-page SEO efforts will refine your business information and build your trust with search engines. These campaigns typically only last between three and six months, but they can be continued to keep building search engines' trust and start ranking for new keywords. The trust you build with search engines will go a long way, increasing your local position and sending signals that indicate your site is relevant for the niche you're in.
Increasing Sales
At the end of the day, every marketing strategy intends to improve sales, and SEO is a highly effective way to generate long-term sales success. While PPC will go away after you're done, the authority, relevancy, and much of your keyword rankings will remain after your campaign ends. SEO strategies can rank you for a variety of keywords that will lead to converting traffic, and the more you put in, the more you will receive. Many businesses permanently use SEO as their main source of sales generation due to the affordability and effectiveness of SEO services. Nothing Beats local SEO for steadily boosting sales.
Summary
If you're still questioning whether or not SEO is important to small and medium-sized business success, I recommend scheduling a call to discuss! Major search engines can revolutionize your business.